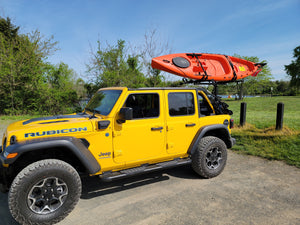 Jeep Wrangler 4xe with Hitchmount - Great Feedback!
Here's one of the newest Jeep's - the Rubicon 4xe, with a Hitchmount-Rack looking super! The owner sent some great feedback as well: "
just wanted to say this was a huge find for me. I have the new plug in hybrid wrangler and all of the cage style roof racks mount right where the car plugs in to charge.  Your rack is awesome...solved what was becoming a major challenge for me - far too many hours searching for a solution." Great pics!
---